Today was the last day at
La Métisse
for three of my co-workers, so we had a barbecue during the lunch break to celebrate! At least I think that was the reason. It could also be that my boss was just in the mood to have a barbecue on the newly-cleaned patio, and the send-off thing was just a bonus. I didn't feel the need to ask, so I'm not sure. Either way, everyone seemed to enjoy themselves while eating and taking, and our one-hour lunch break lasted for two hours. And my boss bought everything; we just had to cook it and set the table. Free food
and
an extended lunch break? Absolutely no complaints from this chick!
After work I headed to
Gaumont Parnasse
to see the Chinese crime thriller/drama,
Black Coal
(or
Black Coal, Thin Ice
). I first saw a trailer for it when I went to see L'île de Giovanni a few weeks ago, and I heard that it'd won best film and best actor at the Berlin Film Festival. So I'd been eagerly waiting for it to come out since. But I got to the theater an hour early, so I walked around to see what the surrounding restaurants had to offer.
You ever have those times when you're really hungry, but don't feel like eating? That was me this evening. I was walking around like
I know I need to eat, and I am starving, but I just don't feel like it.
Maybe that doesn't make sense, but eh well. I kept walking to keep my mind off my hunger, but that didn't work so well since there were restaurants
everywhere
. If you're in the mood to eat out but can't decide what you want, go to Montparnasse. Never have I seen so many restaurants in one area! And never have I seen so many cr
ê
peries in one place! Granted I only went down three streets (Rue du D
é
part, Rue d'Odessa, Rue du Montparnasse), but Lord have mercy they were everywhere. Too bad I wasn't in the mood for
crêpes.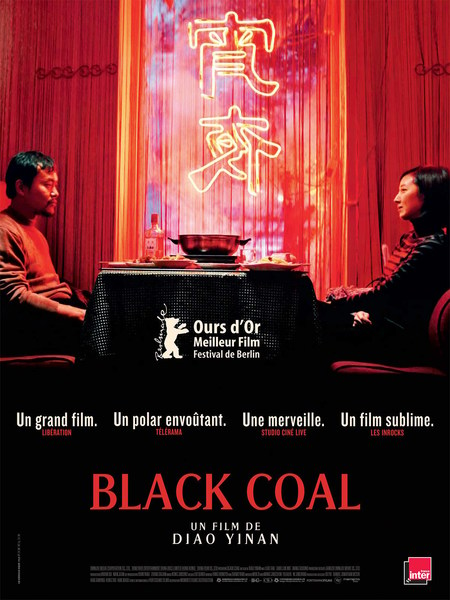 Eventually enough time passed for me to go back to the theater to see
Black Coal
. Set in 2004, it's about a troubled ex-cop who helps solve a case of multiple murders and disembodiment that he'd started investigating back in 1999. A mysterious woman is connected to all three murders, and while pursuing the case said cop becomes infatuated with her.
I left the movie theater and was originally going to head straight "home" to eat dinner and turn in for the night. I was just about to go down the stairs to the metro, when I stopped. Something told me to keep walking around instead of leaving right way. So I did. I went up Boulevard du Montparnasse one way and passed by Le Coupole, with its live Lousiana-style jazz band parading around the restaurant and its female staff dressed as flappers and dancing. I came back down the other way and passed by Notre-Dame-des-Champs. Then I kept walking, and all of a sudden a bunch of police on motorcyles appeared, blowing their whistles as their blue lights were flashing. Nothing was happening, so I didn't know what all the hullabaloo was about. But then I turned around to look back in the direction I'd come from, and rather than cars I saw a wave of rollerbladers. Hundreds of them! Just rolling down the boulevard, no big deal. They all seemed to be in a jovial mood, waving and smiling at people on the sidewalks who were staring and taking pictures of them. It was such a fun and unexpected sight to see! Staff member shirts identified the group as
Pari Roller
. Every Friday night you just sign up, pay to participate, show up at the meeting time and place, and you can rollerblade around Paris with hundreds of others. I haven't skated in years and I'm a 21-year-old old lady who doesn't like to stay out too late at night, so I probably wouldn't try this. But it looked like tons of fun, so if you're in Paris on a Friday night I encourage you to try it!
And to think, I would've missed all this if I hadn't followed my intuition.
Bread and Butter [Paris] photos - JUNE
Bread and Butter [Paris] photos - MAY